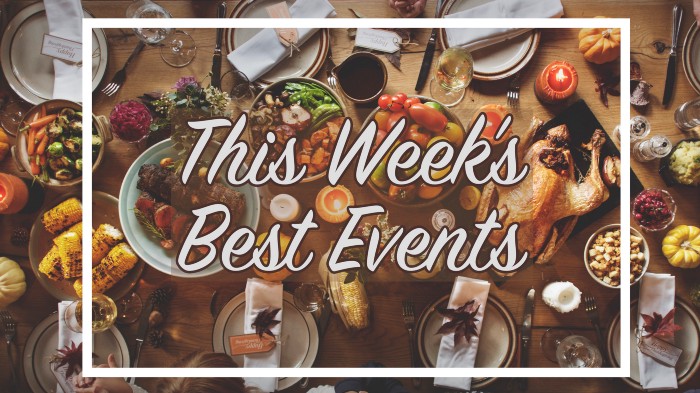 We are getting into the holiday season so that usually means everything starts to slow down, but that doesn't mean the events do! In fact they are picking up! I had sooo many events this week, I definitely had to pick my top favorites. So sit back, open up your calendar, and let's get planning!
We are easing into this week with an event about VSCode and SFDX! In Tips & Tricks for VSCode + SFDX & Share Your Work From Home Hacks it's time to get some support with these tools you use daily. They want you to share your tips with the group, so make sure to fill out their form beforehand. Additionally, they want you to share your work from home hacks and hopefully there will be a few hacks you can implement too! The Portland, OR Salesforce Dev group is hosting this event on Wednesday, November 18th at 4pm (PST).
I'm not kidding you about easing us into the week because the next event on Wednesday is Pardot Pause… a Virtual Happy Hour at 5pm (MST). The Denver, CO Salesforce Marketer (Pardot) group is hosting this event for 30 people so make sure to RSVP! Bring your questions about Pardot, features you may need assistance with and anything else Salesforce related you may want to chat about. And of course make sure to bring a drink and snack to this virtual party!
Now that you've been smoothly introduced into the event week the next event at 6pm (MST) is here to Discover a Lightning Fast Way to Debug in Salesforce with RFLIB — Winter '21 Edition. The Denver, CO Salesforce Dev group is teaching you how RFLIB, aka an open source library, allows you to utilize your code and configuration in a way that allows you to understand and monitor it for any issues 24/7. This will be an interactive session so make sure your org is ready! They will also be discussing new features and Winter '21 highlights. Finally, they will be giving out a certificate voucher, so go register ASAP!
For our last event of the day, the Austin, TX Salesforce Dev group is having Forbidden Secrets of the Metadata API and the Nuances of Older Objects in Salesforce at 6pm (CST). If you want a walk down Salesforce memory lane, well Bill Appleton has the stories for you! As the CTO of Metazoa, Bill will talk about what pain old objects were back in the day and share quirks and special cases that he has discovered over the past decade in Metadata API. Additionally, there is a raffle with some tech prizes at the end of the event!
For our only Thursday, November 19 event, We All Flow On — Fun Building Lightning Flows (with Special Guest Mark Adcock!), is taking place in the Salesforce Admin Group in Vancouver, Canada at 5pm (PST). This session is a hands-on approach to building Lightning Flows on the fly, helps you answer some common business situations, and tricks that empowers new Flow Builders.
Banff Dreamin '2020 is coming to you virtually this year! The primary goals and focus of this event are marketing, sales, leadership, technology, development, administration and nonprofit excellence! This event is perfect for those who are new and old to the Salesforce ecosystem with plenty of sessions and speakers! Usually this event is in person (and it still states that on some websites so be careful) at Banff National park, but this year it's virtual and you will still need to register.
I have another fun and easy event for you this week! On Friday, November 20 at 2:30pm (MST) the Missoula, MT Salesforce User Group November Monthly Meeting — Winter(break) '21 Highlights plans on wrapping up 2020 talking about the Winter '21 highlights and even playing a game of Salesforce BINGO! They want everyone to take an easy and have a nice event for your emotional health and I'm all about that train. The meeting will be an hour long and start off with some icebreakers, so introverts prepare yourself for that!
Usually our weeks end on a Friday, but there is an event on Saturday that I need to share with y'all because it's full of content. On Saturday, November 21 at 12:30pm (PST) the San Ramon Salesforce Admin group is hosting A Demo of Proton Toaster, AppExchange Product and Navigating Data Privacy Regulations in Salesforce. In the first session you will get an overview of Salesforce notifications, sharing best practices and hands-on examples using Process Builders. In the second session you will hear about insights and practices in navigating GDPR and CCPA specific policies, a challenging problem for admins.
Recap
Let me address the elephant in the room aka last week we were SUPPOSED to have Dreamforce to You 2020. But nope, instead 2 days beforehand Salesforce announced that Dreamforce would kick off in early December instead! We've waited this long, so I guess a few more weeks won't hurt. At least we had other events to count on! Roadmap to Revenue: Building a High Impact Salesforce Blueprint discussed Element Solutionsand that will help drive operational efficiency, deliver sales growth, sync your sales team and establish flexible procedures. Next, *The 5 Steps to Creating Connected Digital Experience for 2021 and Beyond *taught you how to satisfy your customers needs in a digital world.
Then in *How to Thrive in a Digital-Only 2020 Holiday Season and Beyond *we learned how to scale your ecommerce website for a surging volume, increasing loyalty programs and sales with Einstein AI, connect sales, services and marketing for a 360 view and finally having a successful customer experience from start to finish. We had a meeting for end of the year fundraising, some show and tell and a check in on their members and a quick tour of the Homekeeper app in Bellingham Nonprofit Admin Virtual Meet-up. The week closed with Education Week with the *How to Operationalize Equity with Holistic Student Support *event helping educators with best practices on how to help their students. Tweet us @mkpartners and let us know your thoughts!
Also, make sure to let us know if you think there are any events worth mentioning and what event you are excited about this upcoming week. And, as always, we will see you in the cloud.