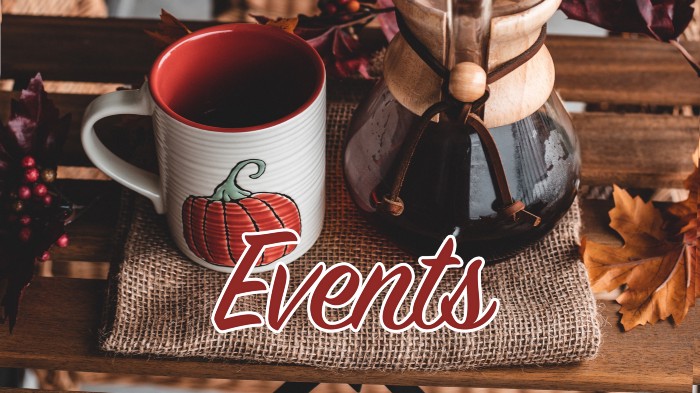 Happy Fall!! The leaves are almost falling and I'm going to fall into events this week (I live in Southern California okay, I have to seize even the slightest changing of the seasons). I have a healthy amount of events collected, so sit back, open up your calendar and let's get planning!
A topic that I would imagine most companies need help in is starting the week off on Tuesday, September 29th at 6pm (PDT). In Aligning Sales and Marketing Operations at your Company, the speakers will be talking about aligning these two departments and will give you tools and tips that you can implement immediately. There will also be a swag giveaway after the open discussion!
Moving on with the week on Wednesday, September 30th we have a 9am (PDT) event filled with good information for nonprofits! Transformation Means More Than Tech has their guest speakers informing attendees about the secrets to having a successful org. They will be addressing important challenges, such as ineffective collaboration among your team, change-resistance culture, initiatives not tied to the company's goals, and many more challenges.
Then kicking off at 10am we have the Salesforce Industries Summit: The Fastest Path to Digital Transformation! This event is geared for companies interested in learning more about the Salesforce platform and what it can do for their specific industries. There is everything from the Public Sector to Media to Healthcare to Manufacturing. There are several episodes with multiple speakers from Salesforce and other industries. Make sure to register if you are unsure on how Salesforce can work for your business!
If you are a small business, then I highly recommend you attend this next event! On Thursday, October 1st at 9am (PDT) Salesforce is teaming up with MetLife in 5 Emerging Trends Every Small Business Needs to Know Right Now. You will be learning about how small business leaders are supporting their employees' well-being, their contingency plans, give you insight on some new research and how technology can help your small business grow and meet customers' new expectations.
Then at 5pm (MST) we are getting a sneak preview of Cactusforce__v 2021! The actual Cactusforce__v 2021 will be taking place on January 15th and is hosted by the Phoenix, AZ Developers group. This preview will take place on their new platform and this an event for all you Architects and Developers out there.
We are going to end the week on a Saturday with a 30 minute workshop! At 1pm (PST) the Seattle, WA Women in Tech group is hosting Make Salesforce Your Back Office Agility Layer for those who want to bring together their data from SAP, Oracle, Sharepoint and others to create a more connected experience. They will teach you how to build this Agility Layer in Salesforce with easy steps and tools.
Recap
Ongoing throughout last week we had multiple events for the Salesforce Release Readiness Winter '21! Stay tuned for MK Partners Youtube video featuring Chris Stegall and myself discussing some of these updates! The Portland, OR Nonprofit User group Monthly Meeting hosted part one in their three part series about end of year fundraising; stay tuned for part two!. Last Thursday we were eased into the morning with Salesforce Virtual Coffee Meetup and then we went into 10 Key Things Nonprofits are Doing to Find New Supporters.
Guest speakers from Common Voyage in FormAssembly Intro & Uses taught attendees how to use FormAssembly for data collection. The event, 6 Critical Considerations for Your Salesforce Data Protection Strategy, also had guest speakers, but from OwnBackup to talk about avoiding data accidents. Tweet us @mkpartners and let us know your thoughts!
Also, make sure to let us know if you think there are any events worth mentioning and what event you are excited about this upcoming week. And, as always, we will see you in the cloud.